Stephanie Skor –  Violin
Violinist Stephanie Skor joined the Lux String Quartet in 2018. She performed extensively in the New England area, and currently pursues a busy freelance career in the Twin Cities.
​Stephanie is an honors graduate of the New England Conservatory, where she studied with Nicholas Kitchen, a founding member and first violinist of the Borromeo String Quartet. While studying at NEC, she attended Madeline Island Chamber Music, the Mannes Beethoven Institute, and Bowdoin International Music Festival. Stephanie began playing string quartets at the age 14, and ever since has loved to explore chamber music in all its forms.
In demand for her diversity as a violinist, Stephanie has enjoyed an eclectic performing career – from a U.S. tour with Jethro Tull to concertmaster at the Rockport Chamber Music Festival. For six seasons she was a violinist in the critically acclaimed Boston-based chamber orchestra Discovery Ensemble, founded and conducted by Courtney Lewis. Stephanie has performed with such artists as Kim Kashkashian, Paula Robison, Jorja Fleezanis, and the Pacifica Quartet. She was a member of the Gardner Chamber Orchestra and has worked with inspiring conductors including Osmo Vänskä, Michael Stern, Douglas Boyd, Joshua Weilerstein, James Ross, and Larry Rachleff. Stephanie has appeared in performances on WGBH, MPR, TPT, and Newstalk, a national radio station in Ireland.
Passionate about 20th century and contemporary music, Stephanie has premiered over 20 new works. She has enjoyed working with composers Georg Friedrich Haas, Vinko Globokar, Christian Wolff, and Nicholas Vines, and has played works by John Cage, György Ligeti, Cornelius Cardew, Terry Riley, Steve Reich, Lei Liang, Thomas Adès, and Esa-Pekka Salonen. In Boston Stephanie was a member of the Composers' Series in Jordan Hall, the NEC Contemporary Ensemble, and Juventas New Music Ensemble. She plays in the Callithumpian Consort and has performed with that Boston-based ensemble in the Festival Internacional Cervantino in Guanajuato, México. Stephanie will be recording a new work by Australian composer Nicholas Vines in June 2019 at Cornell University.
Kirsti Petraborg – Viola
Kirsti Petraborg is a versatile chamber musician and a passionate teacher.  Currently the violist of Lux String Quartet, Kirsti refined her skills as a chamber musician as a founding member of the Meadowlark Quartet.  Kirsti currently performs with the Eau Claire Chamber Orchestra as well as the Clear Water Chamber Players and is a regular guest at the Oskaloosa Chamber Music Festival.  In 2016, she performed Hindemith's Trauermusik with the festival chamber orchestra.
​Not only a chamber musician, Kirsti has soloed with Exultate Chamber Orchestra and the Southwest Minnesota Orchestra and has played with the Duluth-Superior, LaCrosse and Sioux City Symphony Orchestras.  Kirsti diversifies her schedule by playing musical theater with Artistry Minnesota and by performing with the one of the few Cuban-style charanga groups in the United States, Charanga Tropical. The Latin group takes her out of the concert hall and into places a viola normally would not travel, including the Minnesota State Fair and Chicago's much-loved Summer Dance in Grant Park, and has given her the occasion to use her dancing skills on stage as well.
​Kirsti has been an adjunct faculty member at Southwest Minnesota State University as well as Luther College. At her teaching studios in the Twin Cities area, her students hone their technique as well as learn the art of making music.  She teaches at the Southwest Minnesota String Festival, and has spent several summers at Lutheran Summer Music Festival.
​Energetic about sharing her love of the viola with others, Kirsti is currently on the board of the Minnesota Viola Society in the capacity of Past President. She received her doctoral degree in Viola Performance at the University of Minnesota, where she also earned her Master's and Bachelor's degrees. She has studied with Korey Konkol, Sabina Thatcher, and Dr. Andrea Een.
Meredith Blecha-Wells – Cello
Praised for her "beautifully full and lyrically strong tone" by Gramophone Magazine, Meredith Blecha-Wells is a sought-after performer and instructor. She has played throughout much of the United States, as well as Europe, Australia, South America, and Asia. Dr. Blecha-Wells is currently the Professor of Cello at Oklahoma State University where she also runs the Suzuki program. Her students have won a number of competitions, including prizes in Classics Alive Artists, Enkor International Competition, American Protégé Competition, Ad Astra String Competition, MTNA, Hyechka String Competition, among others. Dr. Blecha-Wells received a bachelor's and master's degree in Cello Performance from Indiana University and a Doctor of Musical Arts in Performance and Literature from the Eastman School of Music. She has completed Suzuki training with Tanya Carey, Gilda Barston, Pamela Devenport, Carey Cheney, and David Evenchick.
Christopher Becknell – Guitar
Christopher Becknell has been passionately teaching Suzuki Guitar and Violin for 15 years. This work is primarily done at his private studio in Minneapolis Minnesota. He is also on the faculty at Minneapolis Community and Technical College working with students pursuing performance degrees in Music and Music Education.
In 2015 Christopher released an album of fingerstyle gospel and folk song arrangements for solo guitar called Just Beyond the River. It receives regular playtime on Minnesota Public Radio and is available on CDBaby or iTunes. Having grown up as a Suzuki student from age 5 himself, Christopher is now reveling in the chance to be a Suzuki dad to his own young son.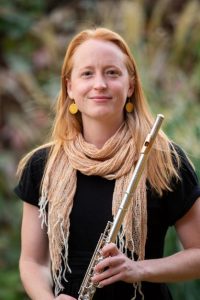 Cora Crisman – Flute
Cora Crisman is a flutist who enjoys a vibrant and varied career as a performer and music educator. Orchestras she subs with include the Colorado Symphony, Colorado Ballet, Colorado Springs Philharmonic, and Boulder Philharmonic. Cora enjoys playing chamber music with her woodwind quintet The Five Seasons, and holds the Second Flute position with the Denver Municipal Band, providing free outdoor concerts to the Denver area.
A passionate music educator, Cora teaches with and writes curriculum for Integral Steps, a nonprofit that provides integrated arts education to children of all backgrounds. Currently, her passion project is a collaboration between the Boulder Philharmonic Orchestra and the Headstart Preschool program that brings skilled musicians into the classroom, and invites students into the concert hall for performances at no cost. Cora holds an MA from the Royal Academy of Music in London and a BM from Ithaca College School of Music in New York.