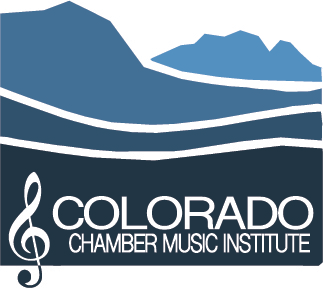 The Colorado Chamber Music Institute is proud to offer partial work-study scholarships to students in support of tuition costs only.  Work-study scholarships of up to $500 are awarded to highly qualified candidates based on the following criteria:
Musical ability of the applicant demonstrated through an online video audition
Programming needs of the Institute
Financial needs of the participant
To be considered for scholarship, Students must submit the completed scholarship application by March 15th.
Completed scholarship application
1 Recommendation form (completed through an online form.  The link to this recommendation form will be emailed to you when you submit the application form.  It is your responsibility to email that link directly to your reference.  Be sure you allow time for them to submit that form by March 15th.
A copy of pages 1 and 2 from your IRS tax form 1040 from the most current year.  Scan and email to execdirector@coloradochambermusic.org or postal mail to: Colorado Chamber Music Institute, 3440 Youngfield St. #111, Wheat Ridge, CO 80033.
All scholarship applicants are notified by mail by March 25th. Institute scholarship awardees are required to provide 3 hours of service to CCMI in the form of ushering or other activities. Our work/study policy requires that you pay in full and complete your work-study agreement at the Institute.  You will be mailed a work-study payment check on July 1.
Scholarship assistance is available, but it is limited.  Please also consider investigating your local community (religious groups, schools, arts, civic organizations such as Rotary, Kiwanis, Lions, etc & private donors) for alternate sources of financial aid.